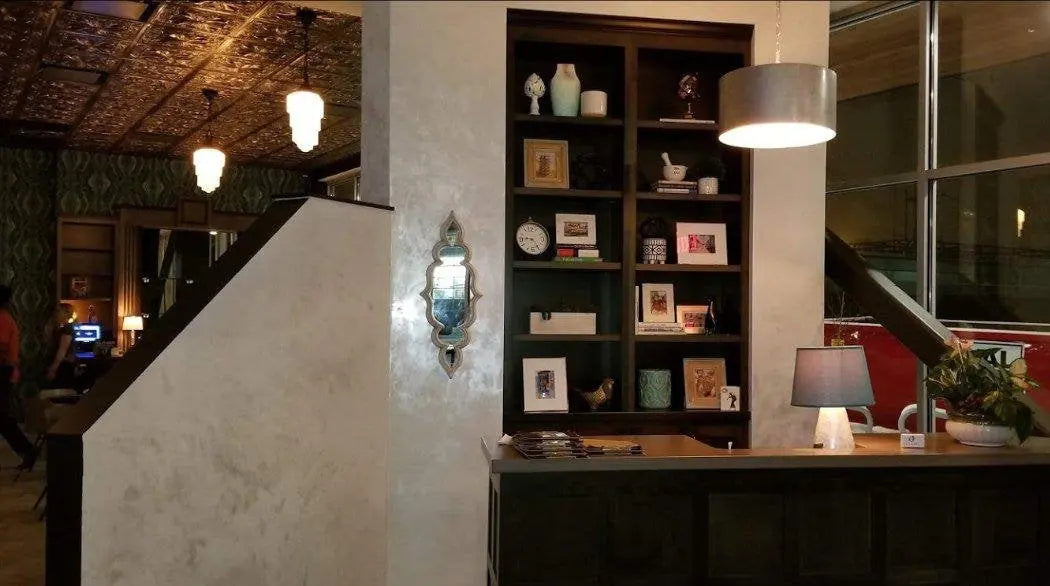 Decora's Venetian Plasters and Decorative Paints are Featured at the Hot New Tangent Restaurant
Tangent Bar and Restaurant Opens in Madison WI
The Vintage Group has opened their latest concept Tangent in the new trendy development area in East Madison attached to the new 2,500 seat music venue The Silvee.  The restaurant interiors, modern and minimalistic, were designed by Strang Architects which conveniently has their office located above Tangent. 
The compliment the vibe of the new hip neighborhood in town the designer selected an assortment of decorative paint and plaster materials which make the walls and ceilings pop.  As you enter you are greeted by the hostess who stands in front of a trowel applied venetian plaster wall that pops with a silver metallic wax.  The same venetian plaster can be found on the ceiling.  The walls are decorated in a trowel applied textured metallic paint done in a rich green gold color selected by the owners.  All bring a unique and new vibe to the venue.
The Decora Company proudly supplied all of the decorative paints and plasters for Madison's newest venue.