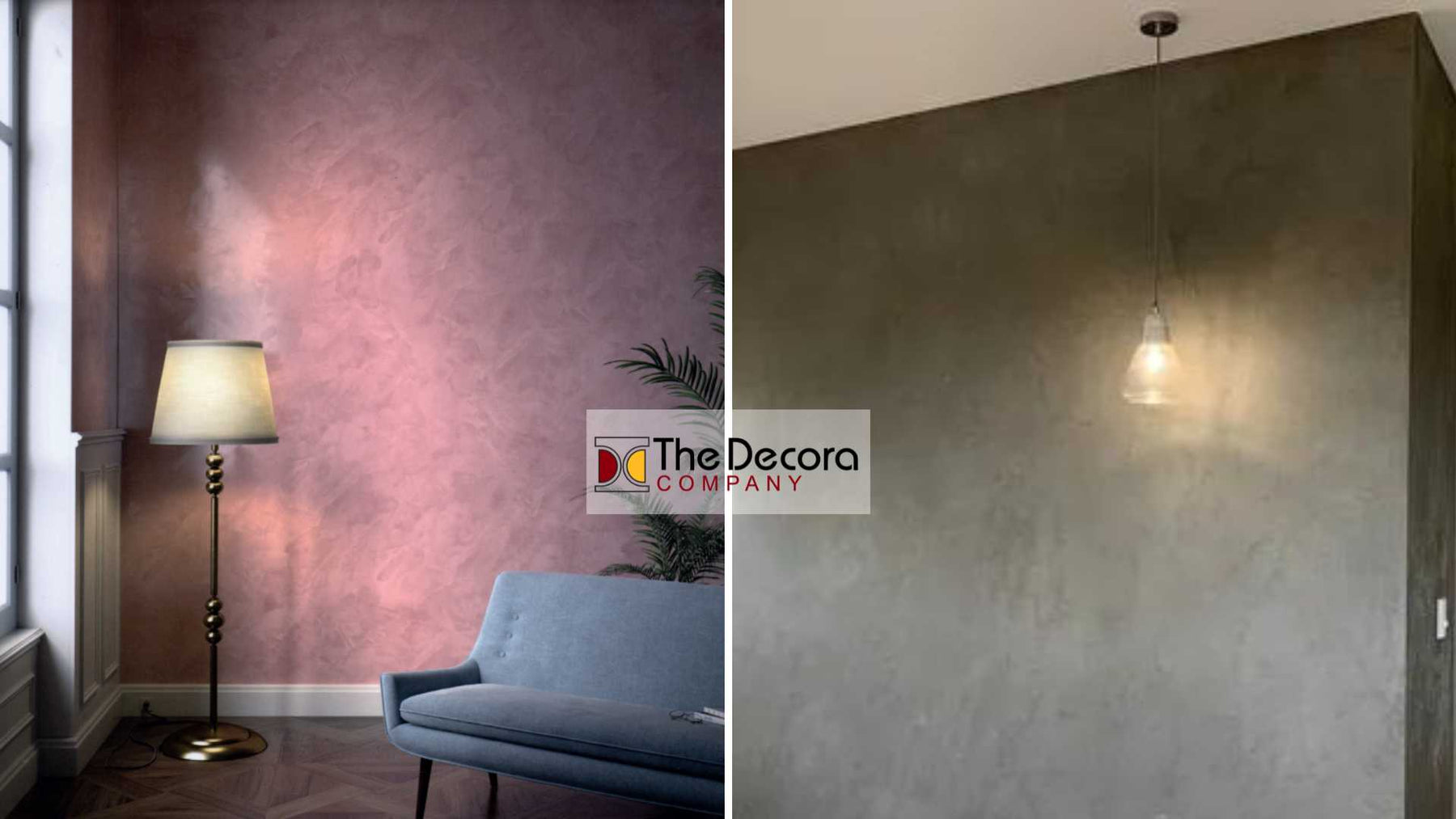 Venetian Plaster 101 - Decorative Plaster by San Marco from The Decora Company
Have you ever explored Italy's Venice? Or perhaps you've seen some amazing photographs or clips of the lovely city? If so, you'll see that it has stunning architectural designs and an old air to it. Therefore, it should come as no surprise that one of Venice's most recognizable ornamental styles, Venetian Plaster, has been widely adopted for ceilings and walls.
The method of imparting a marble-like finish to surfaces to give them an opulent and polished appearance is referred to as venetian plastering (also known as Italian plastering). Venetian plaster adds sophistication and style while giving off the appearance of texture and patterns while having a natural appearance. Its versatility offers a variety of options for surface decoration.
Venetian plaster is the ultimate of classical and elegant simplicity. It is subtly textured and glossy, soft and earthy. It has been in use since the period of Ancient Greece and Egypt, thus it is timeless. Venetian plaster was also widely utilized throughout the Renaissance by Italians living in Venice. Venetian plaster is the greatest option to finish your walls because it has withstood the test of time both visually and physically. Here are some advantages of using Venetian plaster in your home!
Absorbs Carbon Dioxide
Venetian plaster is actually lime plaster created from putty made from burnt limestone and water. (Venetian plaster is essentially lime plaster.) As lime plaster is placed on walls and ceilings, it is exposed to and collects CO2 from the surrounding air. The combination transforms back into limestone after absorbing the CO2! Over time, the plaster gets tougher due to this never-ending cycle. With less CO2 and stronger walls, everyone wins!
Prevents Mildew and Mold
Venetian plaster is an alkaline material since it is a lime-based wall finish. Venetian plaster has a high pH level, which functions as a natural fungicide, so you won't have to worry about unsightly mold over time.
Odorless and Low Maintenance
You recently purchased a new home and painted it in all of your favorite colors! The sole issue? Before entering, you must wait for the offensive odor to dissipate. Venetian plaster won't have this issue because it's all natural. Venetian plaster, in contrast to conventional paint, is created using natural materials like lime and marble dust. There won't be any lingering odor if you use Venetian plaster to update the walls of your current home!
Venetian plaster has had to be the most straightforward surface to maintain; all it takes is a damp cloth to make it look brand new! Maintenance requires little effort because even severe scuffs may be removed by wiping it with a piece of mineral wool. Even less upkeep is required if you apply a wax finish to the plaster, which will help it repel dirt.
The Decora Company has a wide variety of decorative plasters and also decorative paints that you can use for your home renovation or newly built home. Whether you're doing it yourself or a professional, The Decora Company is the best place for you to source all your walls and even flooring tools and materials.
One of the best we have is the STUCCO VENEZIANO - Acrylic Venetian Plaster, High Gloss Decorative Plaster by San Marco.
STUCCO VENEZIANO is a synthetic acrylic version of Venetian Plaster which is an interior coating that enables a unique decorative finish to be obtained resembling the stuccos found in the ancient buildings in Venice. The finish is beautiful and due to the nature of the hand applied trowel finish each application is unique and one of a kind, characterized by tones and effects which depend on the application technique. STUCCO VENEZIANO can be applied on particular architectural elements, such as cornices and columns, as well as on flat surfaces. 
STUCCO VENEZIANO can achieve a very wide range of colors.  Tinting can be done by us prior to shipping, just add a note of your color selection at check-out, or customized by you using standard water based paint pigments. San Marco STUCCO VENEZIANO has been applied on thousands of jobs every year for more than 30 years.
To find the best color and tones for your home and other properties, check our website www.thedecoracompany.com